1. Frame Uprights - Frame uprights are made from one-piece 1 1⁄4 x 1 1⁄4 metal tubing for strength.

2. PowderCoatedFrameUprights - Frameuprights are powder coated with Epoxy to prevent corrosion, flaking or scraping.

3. Front and Back Supported Frame Uprights - Frame uprights have two welded front to back supports for added stability.

4. Stabilizer - Metal stabilizer cross members are made from 18 gauge metal to ensure stability and added strength.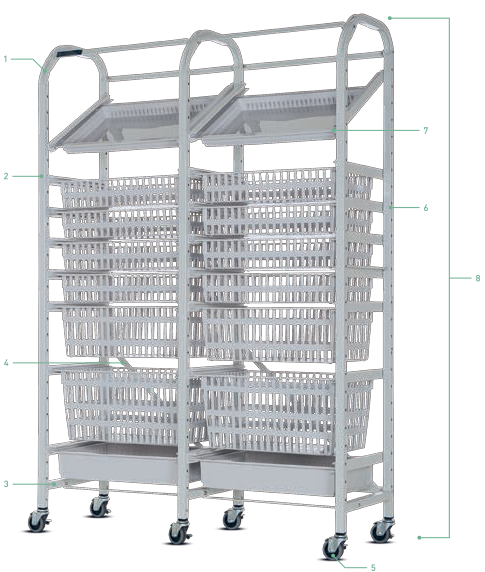 5. Casters - All casters are 3" swivel polyurethane braking caster.

6.Rails - Rails can be adjusted every 2½" on center (no tools required) allowing baskets to be adjusted in seconds flat.

7. Built in Stopper - Rails have a "Built-in" stopper to prevent the basket extending through the rear of the frame.

8. Height - Overall height of the frame is 77 1⁄2" allowing them to fit through standard U.S. doors.
---
Modu-Stor "A" Units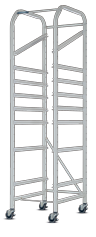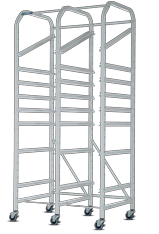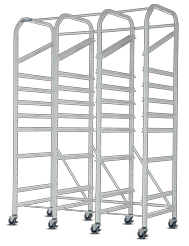 Modu-Stor "B" Units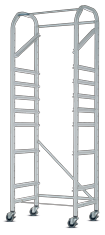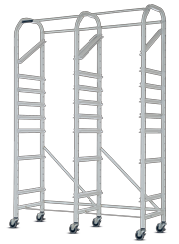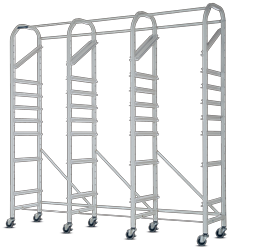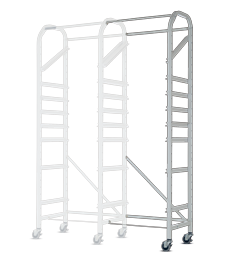 Modu-Stor "A" Units Clear Baskets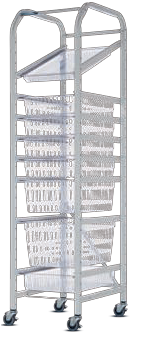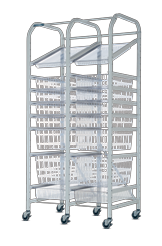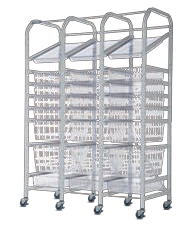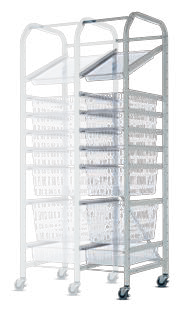 Modu-Stor "B" Units Clear Baskets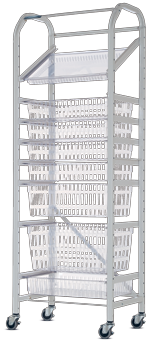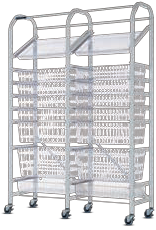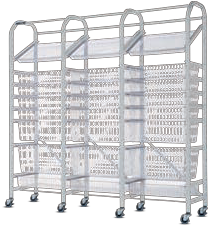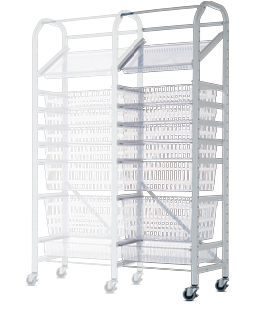 Modu-Stor "A" Units Gray Baskets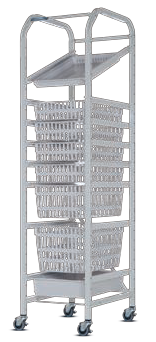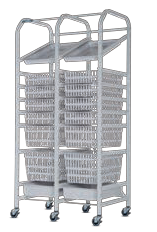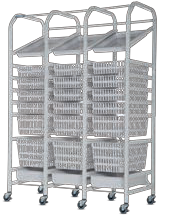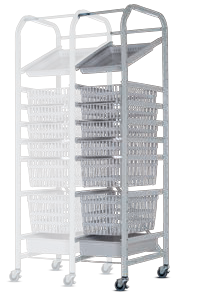 Modu-Stor "B" Units Gray Baskets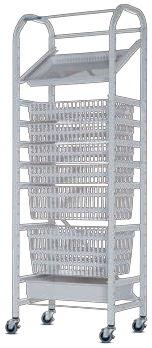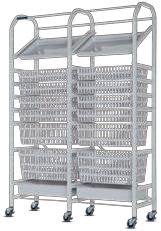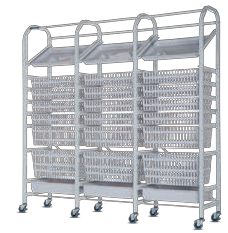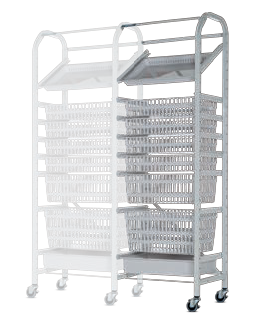 ---
Accessories
x

Basket Stop - BS

U's - U

T's - T

Basket Inlay - LINER

Labels - LBL

1" Tray - 1BC

2" Tray Clear & Gray - 2TC / 2T

2" Dividers Clear & Gray Long - 2DLC / 2DL
2" Dividers Clear & Gray Short - 2DSC / 2DS

4" Tray Clear & Gray - 4TC / 4T

8" Tray - 8T

4" Basket Clear & Gray - 4BC / 4B

4" Dividers Clear & Gray Long - 4DLC / 4DL
4" Dividers Clear & Gray Short - 4DSC / 4DS

8" Basket Clear & Gray - 8BC / 8B

8" Dividers Clear & Gray Long - 8DLC / 8DL
8" Dividers Clear & Gray Short - 8DSC / 8DS

11" Basket Clear & Gray - 11BC / 11B

11" Dividers Clear & Gray Long - 11DLC / 11DL
11" Dividers Clear & Gray Short - 11DSC / 11DS

2" Basket Wire - 2WB

4" Basket Wire - 4WB

8" Basket Wire - 8WB

11" Basket Wire - 11WB

2" Dividers Wire Long & Short - 2DLW / 2DLS

4" Dividers Wire Long & Short - 4DLW / 4DLS

8" Dividers Wire Long & Short - 8DLW / 8DLS

11" Dividers Wire Long & Short - 11DLW / 11DLS

16"x24" Flat Shelf Solid A (Fits A-Units) - FSM-A
24"x16" Flat Shelf Solid B (Fits B-Units) - FSM-B

Flat Shelf Divider A (Fits A-Units) - DIV197
Flat Shelf Divider B (Fits B-Units) - DIV127

Flat Shelf Volkren A (Fits A-Units) - VOLKRENA
Flat Shelf Volkren B (Fits B-Units) - VOLKRENB

Flat Wire Shelf A (Fits A-Units) - WSA
Flat Wire Shelf B (Fits B-Units) - WSB

Cath Forward A (Fits A-Units) - MS-CATHA/FF
Cath Forward B (Fits B-Units) - MS-CATHB/FF

Cath Sideways A (Fits A-Units) - MS-CATHA/SF
Cath Sideways B (Fits B-Units) - MS-CATHB/SF

Left & Right Heavy Duty A - HDAL & HDAR
Left & Right Heavy Duty B - HDBL & HDBR

A" Left & Right Horizontal- LDH & RDH
"A" Left & Right Angled- LDA & RDS
"B" Left & Right Horizontal- LSH & RSH
"B" Left & Right Angled- LSA & RSA