Carts and workstations represent the equipment dynamic duo of clinical and operational productivity that enable and facilitate patient service – same healthcare time, same healthcare channel.
Which of the pair can be classified as the "sidekick" may depend on perceived functionality, routine responsibilities and simple opinion about usefulness.
Regardless, the equipment remains ubiquitous on nursing floors, in patient rooms and in clinical corridors and public hallways.
While these particular pieces of equipment have seen their share of design and functional advancements through the years, experts acknowledge ongoing opportunities for improvement.
Healthcare Purchasing News reached out to a group of cart and workstation manufacturers to offer their insights and observations about equipment dynamics in context of current events in healthcare, including the lingering COVID-19 pandemic. HPN posed questions about relevant and useful product attributes, benefits and features; what elements should be added to current models; what tends to be missing functionally; and what elements should be eliminated. Six executives from five companies accepted HPN's challenge.
Carts
Key attributes, benefits, features
When it comes to key features, keeping in mind the diversity of cart applications, two primary attributes lead the list.
First up is a vital factor which takes on additional emphasis in the pandemic era: Cleanability.
"The most important attribute to look for in any medical cart is a heavy-duty, easy-to-clean construction," insisted Dave Salus, Healthcare Market Manager, InterMetro Industries. "To make maintaining your cart easier, your choice should include easy-to-clean surfaces. Any cart with dips and crevices where dirt can sit will over time make your cleaning regimen less efficient. If you want to make the cleanliness of the cart a priority, it would also serve you well to invest in a cart with antimicrobial properties. Having antimicrobials built into the cart helps keep the cart cleaner, longer and helps maintain the cart's quality."
Keep wear and tear in prime focus, Salus warned.
"It is also best to focus on carts that aren't going to dent or chip when they are in use," he continued. "Carts take a beating, and the design of the cart you chose should be capable of handling that harsh environment without immediately showing wear and tear. Carts with these attributes are easier to take care of and will save your team from unnecessary headaches in the long run."
The second? Configuration flexibility.
"There are a multitude of medical procedure cart applications, including Isolation carts, anesthesia carts, general supply carts, code response carts and more," noted Bradley Carlson, Product Manager, TouchPoint Medical. "Each of these carts serve specific purposes. Therefore, each type of medical cart will have unique features to enable it to perform its intended purpose to best address the required workflow. Therefore, I would say that when selecting a cart platform, the most important attribute would be a cart with highly configurable drawers and accessory options. This is critical in order to meet the end user and application needs."
Tim Ramcoobeer, Head of Outside Sales, H+H System, concurs.
"Hospitals, specifically inpatient pharmacies, are such dynamic, ever-changing environments," he said. "From drug shortages to procedural changes, there will always be the need to grow and adapt — the COVID-19 pandemic only reinforced this demand. These strenuous, albeit necessary, changes should absolutely be supported by your equipment such that efficiency and patient care isn't sacrificed in the process. One of the many ways we mitigate these changes is with our flexible dividers. The H+H Flexible Divider System allows users to quickly and easily remove, reposition or break dividers down to serve their new needs, without any compromise in efficiency."
Clinicians and nurses require such flexibility with this equipment, according to Joe Grabowski, Channel Sales Manager – Acute Care, Capsa Healthcare.
"The most important cart storage attribute is an easy-to-use, easy-to-manage locking system with configuration flexibility," he indicated. "Nurses and clinicians need fast, easy, reliable access to the medications and supplies for their specific workflow. [Information Technology] needs security that is easy to manage, including remote management."
Every cart is designed for a different purpose, from surgical case carts to a pediatric cart, so clinicians and nurses have to determine the optimal cart for its serviceable purpose, emphasizes Ian Loper, Vice President, DSI. This is why his company designs its high-density storage carts with an integrated storage system for ultimate efficiency and flexibility. "With a wide variety of pull-out baskets, interchangeable compartments, low-profile tool-less adjustable shelves, catheter storage hangers, and angled trays with the option to upgrade with dust covers, custom labels, handles and casters is enough to meet the high standards in the acute care space," he added.
Carts: What should be added?
Experts envision several design and functional gaps that can be filled among carts today.
With the need for flexibility in cart design, one complementary attribute must work its way into existing and future models, according to H+H's Ramcoobeer. Adaptability.
"It became abundantly apparent in 2020 that our tools and equipment needed to serve a multitude of functions," he said. "Along with the introduction of COVID vaccines, came the need to shift valuable time and resources to new, unfamiliar processes. Sure, carts can be specific to serve specific functions such as code, narcotics, IT, etc., but when substantial workflow changes arise as we've seen in recent years, most carts aren't equipped to adapt and serve those new functions. This gap in efficiency manifests itself in many ways including loss of time, money and subsequent patient care."
Consequently, H+H System incorporates modularity to its mobility units, enabling end users to shift functionality to storing and transporting general inventory from doing the same with pharmacy trays, he added.
TouchPoint Medical's Carlson recognizes that the long-term purchasing patterns for carts tends to affect easy updates and upgrades.
"Most procedure carts are capital purchases that are expected to last 7-to-10+ years, and we all know that things change," he observed. "Whether it's a change in workflow, a process, packaging sizes, or new technology, many carts do not offer the flexibility to be easily reconfigured to meet these changing needs over time. Improving on this much needed aspect of cart design would be a worthy undertaking."
One way to facilitate adaptability is labeling, according to DSI's Loper.
"Most carts are designed with pull-out drawers or doors but don't have a location on the handle for labeling the contents inside the drawer," he said. "It's kind of like kitchen cabinets at home where the drawers and doors are not labeled, but the cook inside the kitchen knows where everything is. In the hospital environment, the personnel using the carts change, so labeling to identify the contents are mission critical. Labeling the exterior of the drawer and/or door along with down to the compartment where the inventory is being stored. Time is everything and saving time can save lives, especially in the ED and OR."
Capsa's Grabowski points to integration and interconnectivity with technology as the next step.
"Trends have been towards aligning the use of technology to synchronize the medical support equipment across users and different areas of care," he indicated. "Make access easier, but with greater accountability. There are cart solutions in the market that utilize individual user codes or proximity cards with basic reports showing user access. These work well when initially implemented, but maintaining credentials and user groups becomes complicated, and access and/or reliability can become an issue. Managing the user database becomes more difficult with contract staff and frequent personnel changes. This can become a barrier to optimizing the proper application of storage carts. Features like this may also add to the IT department's workload."
In fact, Grabowski foresees storage carts working in conjunction with the hospital security systems instead of a standalone department application, particularly as Internet of Things (IoT) continues to develop.
"Facilities will only need to complete one New User Registration instead of multiple ones in multiple systems," he described. "When a new nurse starts, his or her ID badge will have the right level of access for everything they need to perform their duties – access to computer applications, electronic health records, entry doors, automated medication dispensing cabinets, and storage carts. Facilities can use this information to analyze and better understand movement and position of both personnel and capital assets to improve their workflows and level of patient care."
Through it all, however, InterMetro's Salus advises keeping the practical in mind – which extends well beyond aesthetics.
"The thing that needs to be improved in so many cart designs that I have seen is the ineffective, dated designs," he insisted. "So many carts, especially metal carts, are hard to move with a heavy build and sharp corners. They are vastly inefficient in providing the best possible storage and mobility, which is so essential to help maintain effective processes."
Carts: What tends to be missing?
As DSI's Loper reiterates the need for labeling, InterMetro's Salus emphasizes composition materials.
"One I would say is a highly necessary upgrade would be switching from a polymer-style cart," Salus advised. "These carts are easier to clean, light, and handle the wear and tear better than metal styles, while also being easier to use and maneuver."
TouchPoint Medical's Carlson stresses convenience and safety considerations because when safety is at risk, organizations should consider upgrading sooner rather than later. Carlson cites five areas, the first two of which concentrate on safety and the latter three focus on convenience.
1. Antimicrobial materials & surfaces: "If your current cart isn't infused with antimicrobial materials and surfaces this should be your No. 1 reason to upgrade. Antimicrobial surfaces improve infection control. This is important, not just because of COVID, but because of general patient care and safety. And to also offer peace of mind for end users that the equipment they are using is safe for them and their patients."
2. A broad range of security options: "Again, sticking with the safety theme. What type of security does your cart offer in the sense of protecting what's inside the cart? The right security for each application, from tamper evident seals offering quick visual security to mechanical locks to [radiofrequency identification] electronic locks with individual drawer access control. Your procedure carts need to be stocked and ready to go. These types of security features make sure that what's inside the cart — whether it's medication, PPE or other supplies — remains safe and secure and also make it easy to quickly assess the carts availability at a glance."
3. Full extension drawers with removable inserts: "Nothing is more frustrating or dangerous than when you can't access something that you need when you're in a critical situation. If your current carts don't provide full visual and physical access to drawer contents, it's time to upgrade. There are also removable drawer inserts to facilitate rapid restocking at the drawer level so that the cart is always ready for the next procedure.
4. High quality casters, including directional steering casters: "Casters are one of the most common break points on medical carts, so choosing a cart with high quality casters is essential. Directional steering casters increase the level and ease of mobility for end users."
5. An expandable worksurface: "Create additional organized task specific workspace when needed without increasing the footprint of the cart."
Both Capsa's Grabowski and H+H System's Ramcoobeer urge a move for carts toward connectivity rather than just serve as mechanical equipment.
For Grabowski, this translates to remote user management.
"Administrators want better security and better control over who is accessing the carts," he noted. "Clinicians want them to be easy to use. They want to get in, get what they need and get out. Upgrading to carts with remote user management can provide both. There are a variety of locking systems but the most common is a keypad with one code that everyone knows. This makes access easy but not very secure.
"Remote user management allows administrators to add and remove users remotely from a web browser," Grabowski continued. "The new user will have access wherever needed across the hospital instantly without the need to manually update carts. Deleting old users is just as easy, minimizing the security risks of theft and diversion from keys, old codes or badges around a facility."
An organization's cart should be able to interact seamlessly with the other components of the pharmacy — acting almost as an ecosystem, contributing to the overall pharmacy environment, according to Ramcoobeer. "
This lack of integration, seen with the majority of carts on the market, causes substantial workflow inefficiencies, leading to a loss of time, money and ultimately patient care," he said. "At H+H System, we believe the different areas of pharmacy storage should be able to work together, as to provide the most seamless workflow experience possible. This concept is immediately seen in the design of our FlexShelf line of products — bins from a FlexShelf storage tower containing heavy saline or IV fluids, for example, can be directly placed into one of our mobility units for quick access and easy distribution, saving both valuable time and effort."
Carts: What should be eliminated?
Given the chance to eliminate some feature, material or option on a cart model today, experts are neither obtuse nor reticent to suggest the possibilities.
For Salus, it's metal.
"Polymer has come a long way and today is as strong as or in some case stronger than steel," he insisted. "It also brings other advanced features that contribute to an overall improved design that can cater to healthcare needs. For starters, it can be mixed with an antimicrobial that makes the entire plastic antimicrobial, through and through. Unlike painted surfaces with antimicrobial, plastic-infused antimicrobial cannot wash off or scratch off, so it keeps the surfaces cleaner between cleanings for the life of the product."
Plastics also can take the edge off sharp corners, Salus emphasizes.
"Plastics can be molded to deliver softer corners, which are easier to clean, i.e., inside of drawers, and safer to the touch, i.e., exterior corners, like the cart body and drawers," he noted. "Metal starts as a flat sheet and is bent into shape, which the bending process inherently creates the sharp corners at the end of the bend and especially where two bends meet to form a corner. Plastics are also softer to the touch, unlike the less friendly feel of cold hard metal. Finally, polymers deliver a higher aesthetic, and you can trust that modern look to remain for the life of the cart, as there is no paint to chip, scratch or peel, and no rust to appear over time."
Carlson also recognizes the infection prevention benefits of proper molding.
"With the heightened focus on cleanability and infection control, eliminating unnecessary surface breaks and gaps, and other areas on carts that pose difficulty in the cleaning process, creating unnecessary additional work for caregivers whose time and energy should be focused on providing the highest levels of patient care," he said. "Always look for carts with smooth uninterpreted surface with easy-to-clean geometry and removable drawer inserts."
Ramcoobeer concurs that infection prevention considerations for carts must be top of mind today.
"In the wake of the COVID-19 pandemic, healthcare professionals find themselves faced with much more stringent cleaning protocols," he noted. "Along with increased cleaning, we are also seeing an increase in the deterioration of carts made from inferior, porous materials and plastics. There definitely needs to be a transition away from these materials to a more durable option such that structural and functional integrity is maintained even with the use of harsh chemicals."
Grabowski expresses concern for clutter.
"One feature that detracts from the aesthetics of a cart is the overuse of external accessories," he said. "A cart by itself has a clean look with supplies neatly organized within the drawers. Cart manufacturers strive to streamline workflow for clinicians but sometimes over-cater to their needs. Multiple external accessories are added to the sides of the cart, so clinicians have quick access to items without opening a drawer. Like most things, moderation is important. It optimizes workflow to mount one or two accessories and stock them with frequently used supplies, but commonly too many external accessories are used and then overfilled. The accessories extend the footprint of a cart, make it appear unorganized, hard to maneuver and difficult to clean. Reducing external accessories and getting supplies back in the drawers helps with the supply organization, the look of the product and perception of the quality of patient care."
Meanwhile, Loper yearns to kill casters in favor of something else.
"No matter the brand, casters over time will not function as intended," he said. "Think hover board. If we can remove the casters but still have the mobility of the cart, this will eliminate a lot of frustration for hospital personnel."
---
Workstations
Key attributes, benefits, features
Just as with carts‑, experts specify certain preferred features that represent a well-rounded workstation used by clinicians and nurses.
Dave Salus, Healthcare Market Manager, InterMetro Industries; Bradley Carlson, Product Manager, TouchPoint Medical; and Steve Torbett, Senior Product Manager, Acute & Point-of-Care Products, Capsa Healthcare, zero in on complementary attributes related to a single theme – ergonomics.
Salus cites configurability. "Having the freedom to build a workstation that is adjustable for every member of your team and that can be easily configured to their height is a game changer," he said. "Having a worksurface that can be adjusted to fit the height of the person working can help relieve strain and make working throughout the day easier."
For Carlson, this means improving runtimes, which translates to more time dedicated to direct patient care and away from indirect patient care pertaining to administrative processes.
"Without question, the most important benefit of any mobile computing workstation is its ability to assist caregivers with and enable an improved level of patient care," he said. "This can only be achieved with lightweight, easy-to-maneuver, ergonomically friendly mobile workstations that offer superior runtimes. On average, nurses spend 35% of their time entering data and charting on mobile computing carts. The end goal would be to reduce this amount of time so that it can be spent on quality patient care.
"At a bare minimum, mobile workstation providers should be focused on making this charting time as pain-free and easy as possible," Carlson continued. "This can be achieved through the deployment of DC-optimized workstations that provide 25% more runtime, so that caregivers are not interrupted by the need to go plug in a cart to charge, and/or through the use of lightweight, nonpowered carts paired with medical grade AIO computers with swappable battery solutions as part of the AIO solution. Through the addition of an external power cord, such solutions can see 16+ hours of runtime and can be trickled charged via the power cord without caregivers needing to fuss over or worry about physically exchanging batteries or finding additional precious real-estate on the floor for battery chargers."
Ergonomics for easy, flexible use tops the chart for Capsa's Torbett.
"Adjustment of keyboards and displays is crucial to adapt to different users, for use in sitting or standing positions and for patient engagement," he indicated. "Fluid movement, including vertical height adjustment, tilt, swivel and reach, all play important roles in positioning the workstation, both for use by the clinician, and in some use cases, for showing information to patients. Good ergonomics encourage comfortable and convenient use, while preventing caregiver injury and strain."
Tim Ramcoobeer, Head of Outside Sales, H+H System, and Ian Loper, Vice President, DSI, concentrate on the final frontier.
"Space, being one of the most valuable commodities within the pharmacy, must be maximized whenever possible," Ramcoobeer noted. "Being able to have all the components necessary to support workflow, while keeping the overall footprint minimal, has become such a powerful feature that we are proud to offer with our FlexShelf line of products."
Loper emphasizes the need for having a clear work surface. This means "stuff is not stored on the work surface but rather stored underneath the work surface in a cabinet or above the work surface in a space free and clear of the countertop," he said. "A workstation should have storage capacity incorporated into the overall design allowing for a more efficient, clutter-free, work environment."
Workstations: What should be added?
Still, experts agree that current workstations in use would benefit from a number of improvements.
Salus suggests solid surface countertops for one.
"By upgrading to a solid surface over a laminate you can make cleaning easier and help eliminate the chances of contamination," he noted. "Laminate cracks, exposing the wood, which absorbs moisture and any other stuff it comes in contact [with], making it unsanitary and impossible to clean – an infection control issue that can be avoided easily by upgrading to a more solid countertop option like stainless steel."
But DSI's Loper cautions about a universal option that can complicate lifecycle costing.
"It seems most of the workstations being used in SPDs today were originally designed for other markets, not specifically for use in hospitals," he observed. "The materials used are heavy in weight, using thicker-than-needed heavy gauge steel, and more importantly, do not have a complete range of accessories applicable for use in SPDs and or Biomedical applications. This often leads to sourcing different accessories from different manufacturers creating a margin of challenge for presale design and after-sale in-service demands."
Cable management is always a challenge in workstation design, according to Capsa's Torbett.
"There is such variation in how workstations look in how they accommodate and hide cables and connections," he observed. "Hiding cables helps with easier cleaning for better infection control and prevention of liquid ingress. It also helps protect cables from damage or being disconnected, which can be a common reason for workstations becoming non-operational. It would be helpful if hardware manufacturers would improve cables, power bricks and options for how they connect to devices as it is a source of frustration for IT and users." Torbett cites as an example devices with power adapters integrated into the plug, which often cause obstructions when used on power strips.
Compatibility is key, H+H System's Ramcoobeer insists.
"Healthcare workstations would greatly benefit from the ability to be directly compatible with mobility units (carts)," he noted. "There is no doubt that 2020 thrust healthcare professionals into uncharted territory, forcing the adaptation of 'old' equipment to serve new functions. These vital, new functions provided a moment of clarity in that we realized the direct need for cross-compatibility amongst static and mobile units."
Configurability can be attractive, according to TouchPoint's Carlson.
"I would focus on making the mobile computing workstation a 'set it and forget it' custom solution personalized to each individual caregiver," he suggested. "Just imagine a mobile solution that through auto-recognition adjusts to your pre-set preferences – cart height, monitor height and brightness settings, lighting on the keyboard and cart worksurface that is exactly what you want and prefer and when you need it – even your choice of lighting hue and color, without adding any extra steps. The workstation might even be able to provide the ergonomically correct level of mobile assist power for pushing the mobile workstation based on the user's anthropomorphic data. This would help to eliminate, or at least take away, some of the drudgery that typically goes along with using a mobile workstation solution to allow caregivers to better focus on patient care and positive patient outcomes. And it would need to have at least 20 hours of uninterrupted runtime. I know, call me a dreamer, but there's where all good ideas start."
Workstations: What tends to be missing?
Features missing on workstations tend to mirror some of those missing on carts, too, sources say.
Salus homes in on cleanability and design. "Look for workstations that offer antimicrobial technology build-in. This addition is great at ensuring your workspace maintains its clean look and even keeps your workspace cleaner between cleanings," he added.
"Scalability, and the ease therein, seems to be a major obstacle most healthcare workstations fail to overcome," lamented Ramcoobeer. "As with carts, workflow and processes change, what seems to be weekly or daily. Modularity means scalability and current workstations miss this mark by not offering quick-change components that keep pace with frequent changes. Being able to scale a vital workspace up or down, easily and effectively, can be the difference between keeping up with capacity demands or suffering workflow inefficiencies."
Because the buying cycle for mobile computing workstations tends to be rather long, many facilities likely continue to use products from 5 to 10 years ago, Carlson surmises. "There have been many advances made over that time period in cart design and power systems," he continued. "I would suggest that if a facility is still using older models of AC-powered workstations with heavy battery solutions and inferior runtimes, that they should take a serious look at upgrading their fleet. There is a shortage of nursing resources in this country, so offering a best-in-class mobile workstation is not only the right thing to do for caregivers, it becomes a feature for attracting new, much needed employees."
The lack of ergonomic adjustability can lead to other challenges, according to Torbett.
"Many older workstations lack flexibility to support a broad set of configurations other than a traditional combination of monitor and keyboard," he observed. "There is increasing demand for the ability to mix and match different components using one common family of mounting solutions. Having the flexibility to mount just a display or all-in-one with touch screen, dual monitors, a laptop or tablets, helps to support a wider range of current and future use cases. In addition, mounting options for CPUs, and convenient access to scanners, printers and other devices and supplies need to be considered. Having more flexibility future-proofs the selection of workstation components so they can be moved and exchanged as clinical needs change."
Workstations: What should be eliminated?
As with carts, experts pinpoint with relative ease components they would cast away.
"Onsite assembly," Loper said. "Most workstations are too large to preassemble because they will not fit through the doorways and/or elevator in a hospital so the workstations are delivered knocked down. This requires onsite assembly in the final resting place of the workstation inside the department. Think IKEA but more intense, doing assembly work in a sterile environment. Not fun."
Torbett concurs. "The nicest thing to eliminate on fixed workstations would be the requirements associated with installing the workstation," he indicated. "Fixed workstations require planning to determine where to place the workstation and how to mount it properly. They require more cross-functional coordination to align plans and expectations. There is inherently less flexibility with stationary workstations than there is with carts, which are often preferred by IT as they are easier to swap out for maintenance and move out of the way without disrupting patient care areas. Non-powered carts are sometimes used as a compromise that offer mobile flexibility, while keeping costs lower so that one cart can be assigned to each room."
Salus points to the obvious: "Laminate. It has an old look and is less sanitary than other options on the market."
For Ramcoobeer, it's fixed, static technology. "It has become increasingly apparent that if a workspace and its components are not able to adapt to the needs of the user, workflow can be severely impacted," he said. "I believe there needs to be a transition away from fixed components in a workstation to a more modular design. Doing so allows healthcare professionals to spend substantially less time on non-clinical functions, transitioning the focus back to efficiency and patient care."
Although Carlson hints at a number of detractors that "actually rob time and attention from the primary focus of caregivers," he zooms in on one.
"I would focus on the reduction of swappable cart battery solutions marketed by a number of manufacturers," he noted. "Not only do they appear as an afterthought on most products, but they rob the nursing staff of precious time that they simply do not have to give. A nurse or a caregiver has a full plate already on every shift, every day/night, so requiring them to be the stewards of swappable battery systems in addition to their existing heavy workload is not a great option. The goal is to reduce the total number and time of tasks that nursing has outside of providing direct patient care, not to add to it."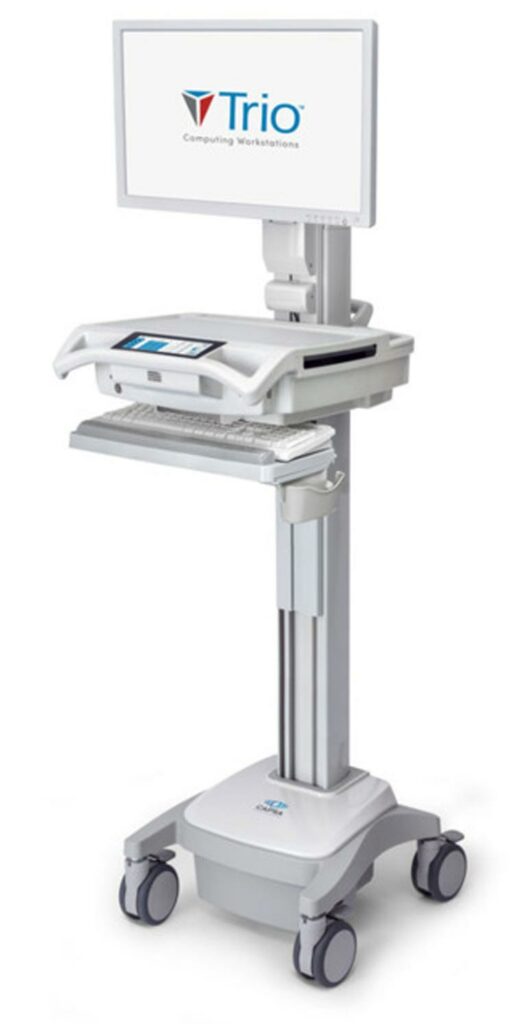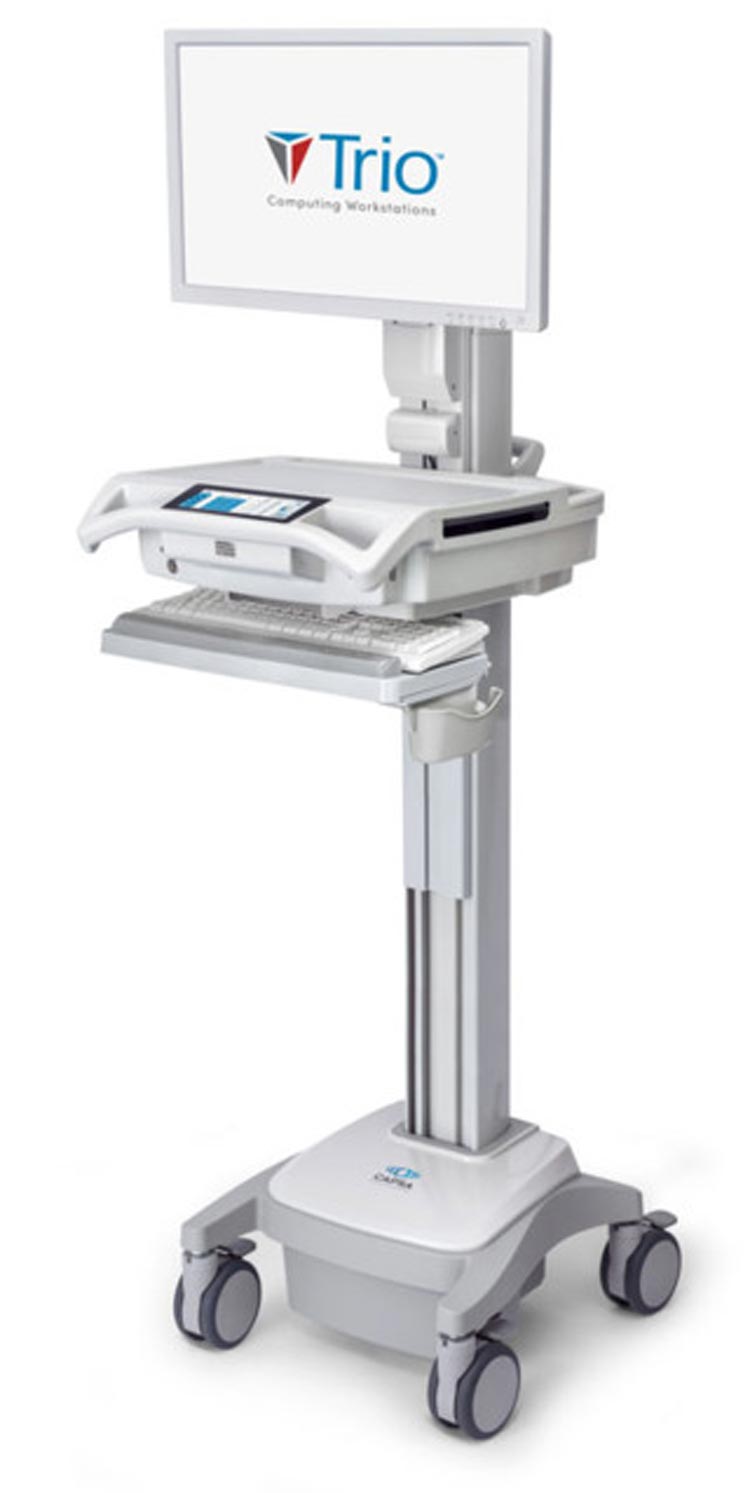 TrioTM is Capsa's latest advancement in mobile workstations. It includes the best of Capsa's top-selling M38e and CareLink platforms, with additional enhanced features and options. Trio incorporates a flexible scalable power system called GoLiFeTM with both internal and external battery options. It is a highly configurable platform that can handle a broad range of medication storage and supplies, including Capsa's new MaxBin system. Trio includes N-Sight, the industry's leading cloud-based fleet management system that supports improved asset utilization. Trio is designed to help clinicians focus on patient care instead of managing technology, supported by proactive remote tools for IT and the best service program and parts logistics in the industry.
---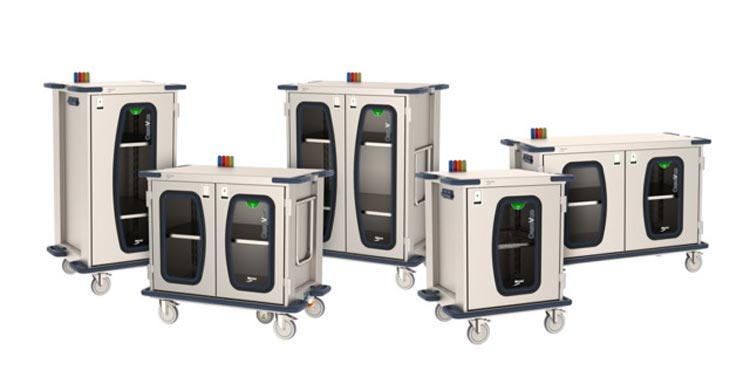 Built with users in mind the new Metro CaseVue carts is the strongest, and most ergonomic choice available for case carts today. The exclusive robust multi-handle design and 5th wheel steering allows clinicians, of any stature, to easily maneuver supplies on or off-site. This cart is well-appointed to support the sterile instrument transport process with features like, clear-view doors, quick-view status flags and a swing-up transport handle. So, get a better perspective on your sterile workflow with Metro CaseVue.
---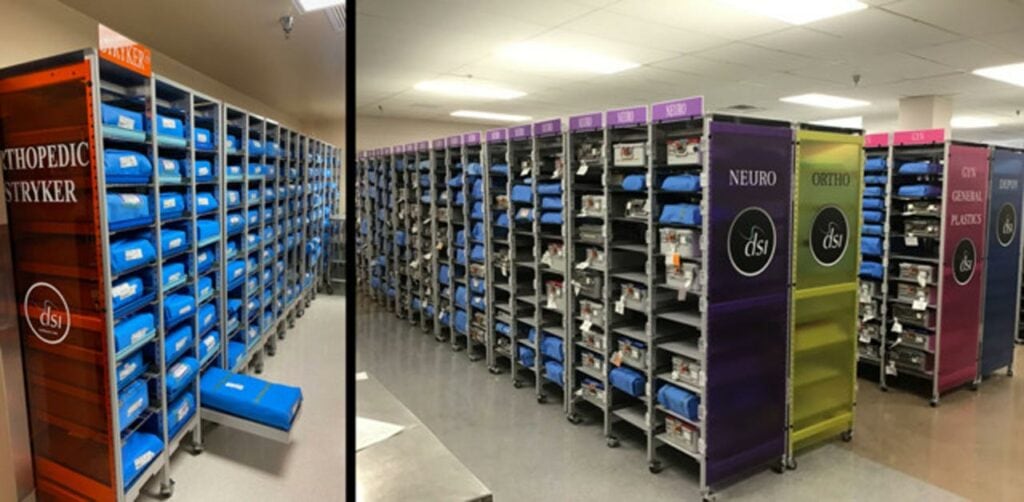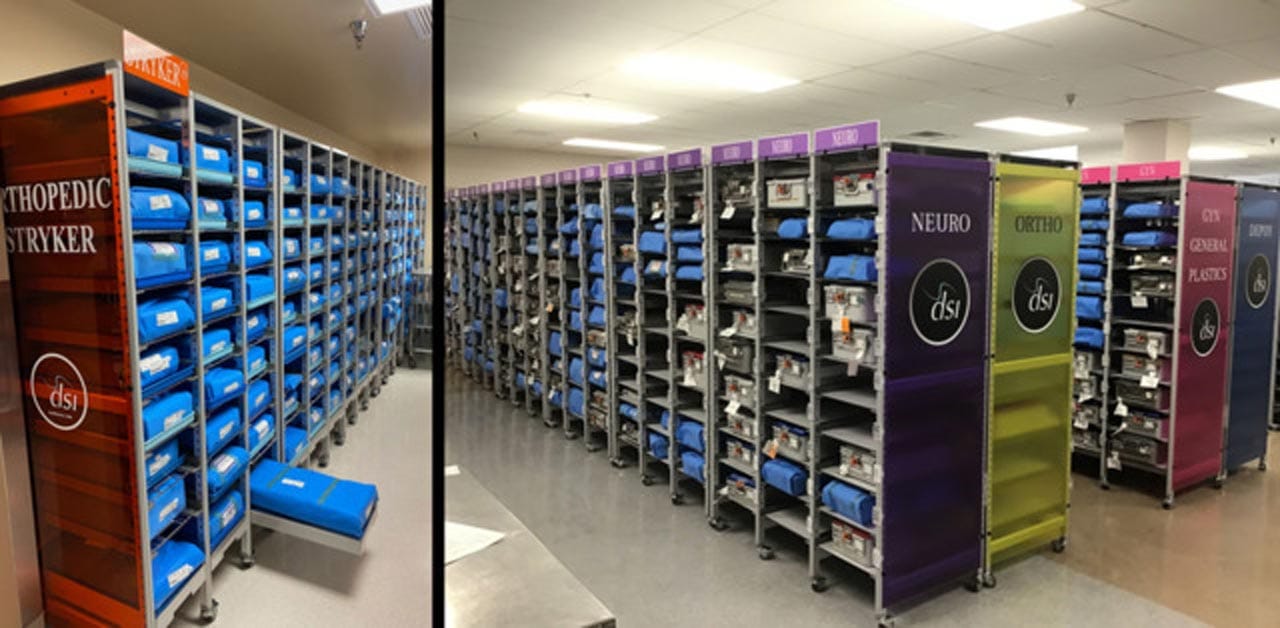 DSI' high-density carts are designed specifically to store industry standard rigid containers and wrapped trays. DSI also offers customized labelling for its space saving carts with colored end panels, service line top panels, and individual shelf labels for each location.
---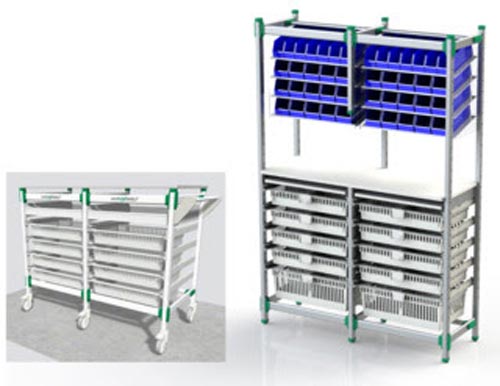 H+H SYSTEM's FlexShelf line of products offer a high degree of cross-compatibility among the different unit types. One of the many areas this modular design can be seen is through our FlexModul bins. In addition to being subdivided to a user's specific needs, these bins can quickly be swapped between a workstation and a cart for easy distribution. This consistency is a valuable factor to drive, maintain and improve efficiency within the pharmacy and beyond.
---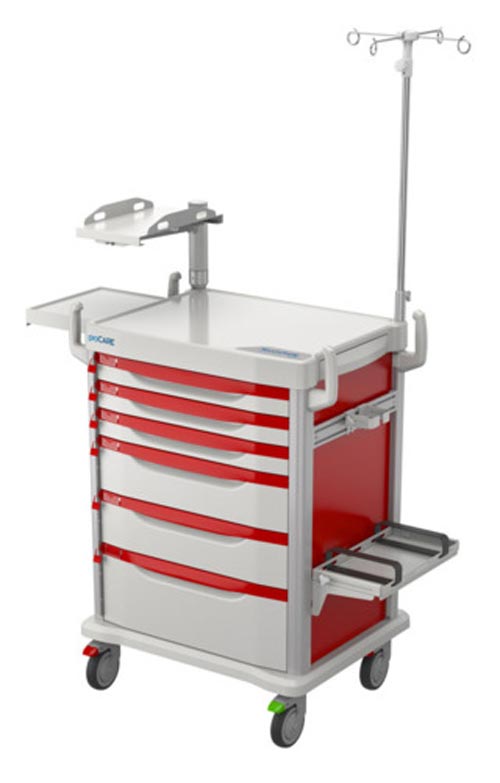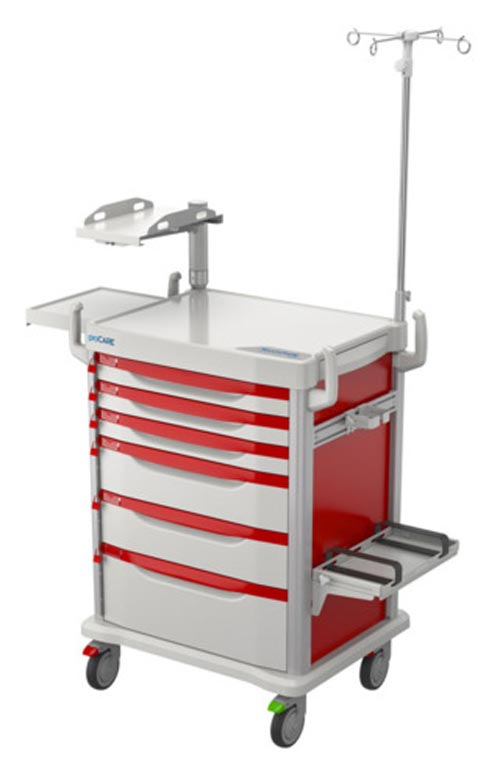 proCARE™ medical procedure carts deliver features that put equipment, supplies, and medications in easy reach of healthcare professionals to enhance patient experiences and outcomes. They are more than a storage solution; they are your professional care assistant. proCARE™
offers an ergonomically designed system that is easy to maneuver, a configurable and removable drawer system that accommodates changing needs and that facilitates rapid and easy replenishment of supplies when using PAR level stocking.
---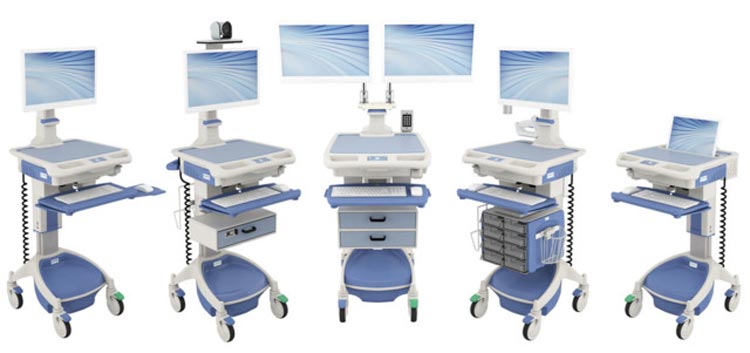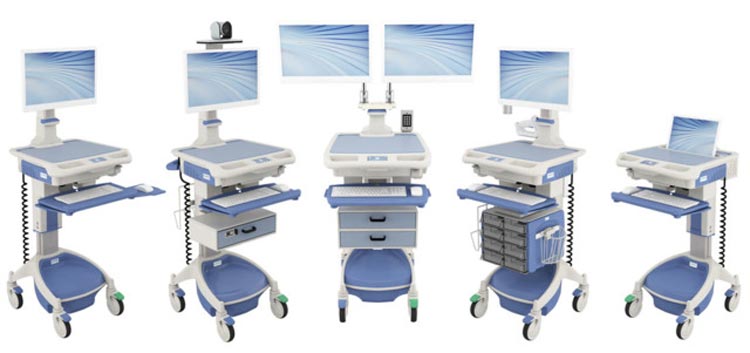 AccessPoint™ workstations on wheels provide an ergonomic solution for caregivers, a flexible technology platform for IT and a reliable, long-term equipment investment for healthcare facilities. They stand the test of time with easily configurable options to adjust to your changing clinical and IT requirements. AccessPoint™ WOWs are built with DC-optimized power systems using lithium batteries with an increased runtime of 20-25%. Your total cost of ownership will go down due to its low electrical consumption and ease of battery disposal, and your staff's job satisfaction will go up.