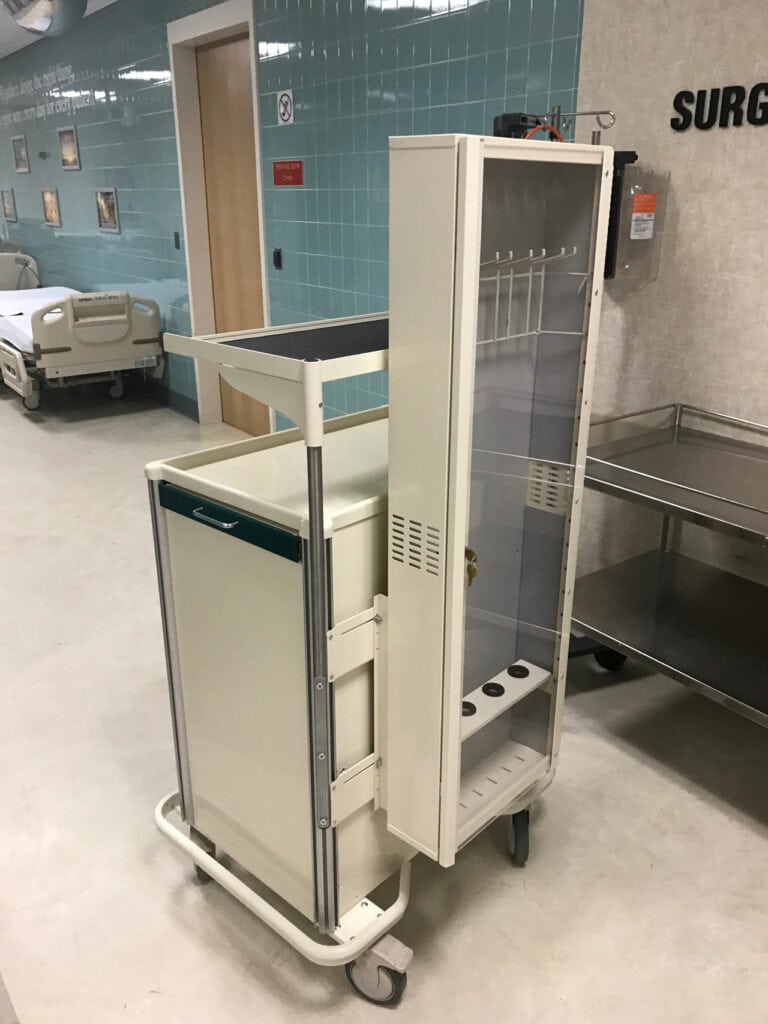 Hospitals are one of the most crowded places in the world, and as a result, they need to be efficient and organized to ensure optimal patient care. That's why it's so important for hospitals to have smart and efficient storage solutions.
Medical carts on wheels with drawers ensure that all your hospital equipment is easily accessible and organized. They also allow you to move your equipment around easily, which can make a huge difference in patient care.
Let's look at the main reasons why medical carts on wheels with drawers are essential in any healthcare facility. We'll also talk about some of the features you should look for when buying these carts to get exactly what you need for your facility!
What Are Medical Carts On Wheels?
Medical carts on wheels are metal, mobile, rolling cabinets that can be used for various purposes. The carts are used as storage for medical supplies, such as bandages and other items needed for quick treatment.
The carts can also be equipped with special compartments for storing medications or other essential items. They are often used in hospitals and clinics to store everything from patient records to medical equipment. They're also used in offices where employees may need access to medical files on short notice.
Various medical carts are used in healthcare facilities, each with a specific purpose and function. Some of the most common types include:
Medication carts
OR carts
Pediatric carts
Emergency carts or a crash cart
Anesthesia carts
Treatment or procedure carts
Computer workstation carts
Isolation carts
Bedside carts
Organized Storage For Supplies
Organized storage is a necessity in healthcare facilities. Whether it's a hospital, clinic, or medical office, the need for supplies and equipment can be overwhelming. The ideal storage solutions can help you keep your facility up and running smoothly.
Medical carts on wheels with drawers are a smart way to store supplies in order in your medical facility while minimizing clutter. These carts have drawers that allow you to easily access your supplies as needed while also keeping them organized. The top drawer is perfect for frequently used items like bandages, gloves, drugs, and data.
The second drawer has adjustable dividers so you can organize your supplies by size or type, while the bottom drawers are perfect for storing things like syringes and needles in a secure area.
Greater Worker Efficiency
Medical carts with drawers for hospitals are a must-have for any healthcare facility. These carts are designed to be durable and easy to maneuver so that you can get your supplies wherever you need them quickly and easily. But when it comes to your hospital's efficiency, that's not even the best part.
The best part is how much time these carts save you. Medical carts store supplies, instruments, and tools that nurses need at their fingertips. They allow your staff to keep track of everything they need for each patient in a way that makes sense for them. This means less time spent searching for things, meaning more time spent on patient care.
And when it comes to keeping track of inventory in your hospital? You'll never lose track again! Each item has its place on this cart, and each drawer opens individually with just one motion.
Improved Safety for Patients and Hospital Staff
Hospitals are fast-paced environments. Doctors, nurses, and other hospital staff move quickly from one task to the next. There's no time to waste and no room for error. And while the hospital setting is a place that many people might associate with chaos, it's also a place where safety is paramount.
That's why medical carts on wheels with drawers for hospitals are designed to help reduce the risk of accidents and injuries in the workplace. One of the first ways medical carts on wheels with drawers improve safety is by making it easier to get supplies to patients in need.
Another way medical carts on wheels with drawers improve safety is by providing a place where essential items are stored without cluttering up other areas. Finally, these carts provide security for medication that might otherwise be dangerous or prone to theft if left unattended.
Easy to Manage Inventory
When you're running a hospital, every second counts; that's why it's so important to have an inventory management system that works for you. You need to keep track of all the medications, supplies, instruments, equipment, and more. The medical carts on wheels with drawers let you take care of your inventory in real-time without worrying about whether or not your staff is properly managing it.
These carts come equipped with multiple drawers, each of which can store different supplies. This makes it easy for you and your staff to keep track of everything that's being used and what needs to be reordered. In addition, it helps ensure that nothing gets lost in the shuffle. And when it's time to restock, simply roll out another cart!
Customizable to Meet the Needs of Any Care Environment
With so many options and accessories, it's easy to customize your medical cart on wheels with drawers to meet the needs of your care environment. Medical carts come in various sizes and shapes to suit different needs. For example, a cart used to transport supplies to and from the operating room may be larger and have more drawers than a cart used for administering medications in a patient's room.
The number and size of the drawers on a medical cart can be customized to suit the types and quantities of supplies that need storage. Medical carts can be made from a variety of materials. The choice of material can be based on factors such as durability, ease of cleaning, and appearance.
Medical carts can be equipped with accessories to meet specific needs. For example, a cart used in an operating room may have an electrical outlet for powering medical devices.
It Is Easy to Get Around
Medical carts are designed to be easily moveable so that healthcare professionals can easily transport necessary equipment and supplies around the healthcare facility. By using mobile medical carts, medical staff can quickly access the equipment and supplies they need, saving time and improving patient care.
Easy-to-move medical carts enable medical staff to bring necessary equipment and supplies directly to the patient, reducing the need for the patient to be transported to a central location for treatment.
Easy-to-move medical carts enable medical personnel to increase mobility around the healthcare facility quickly and efficiently, which can improve the overall workflow and productivity of the facility. These carts allow caregivers to offer care and services in different areas of the facility or even outside the facility if the need arises.
DSI Direct's Smart Storage Solutions - Your Partner in Efficient Patient Care
Medical carts on wheels provide a mobile and organized solution for storing and transporting equipment, supplies, and medications, which can save time and improve patient outcomes.
At DSI Direct, we understand the importance of medical carts in hospitals and offer a wide range of options to meet the specific needs of your facility. Our medical carts are designed to be durable, secure, and compliant with industry standards and regulations. We also offer customizable options to meet your specific needs.
We have the knowledge, experience, and resources to provide you with the best solution for your facility! Contact us today for more information about our medical carts and how we can help your facility improve patient care and increase efficiency.