Despite the challenges of the COVID-19 pandemic, Central Service/Sterile Processing & Distribution (CS/SPD) department professionals have moved forward with initiatives to improve the effectiveness and quality of their operations.
This includes redesigning/rebuilding existing departments or building completely new spaces to support growing surgical and procedural volumes, and an ever-expanding array of instruments and devices.
At the same time, equipment and supply manufacturers continue to develop and deliver innovations to help improve sterile processing workflows, and the quality and safety of reprocessed items for use in the delivery of patient care.
A service line specific approach
During her career, Courtney Mace Davis, Director, Sterile Processing Department, NorthShore University HealthSystem, Evanston, IL, has seen CS/SPD rebuilds that worked, and those that didn't.
"You can have the best building in the world and I have seen it fail because the processes weren't worked out ahead of time," said Mace Davis. "A successful CS/SPD design strategy requires a holistic approach, including people and processes to sustain it."
In 2019, Skokie Hospital, part of the NorthShore University HealthSystem network, opened as llinois' only specialty hospital dedicated to orthopaedic and spine care. The seven-year, multimillion dollar renovation and expansion established the Orthopaedic & Spine Institute, which provides advanced care and is designed for both outpatient and inpatient procedures.
Mace Davis was hired to help design a new CS/SPD to support the Institute, both the physical space and the processes. Unlike other healthcare facilities where sterile processing professionals serve as generalists, reprocessing items for a broad range of specialties and procedures, Skokie Hospital established a service line model where the CS/SPD team is solely focused on orthopaedic and spine care instrument reprocessing.
"Everyone at the Institute is an expert in orthopaedic and spine, including sterile processing," said Mace Davis. "The technicians that we hire must be able to work in an environment that is fast-paced and intense. If you expect excellence, then you recruit the best people to be on your team."
When Mace Davis joined Skokie Hospital, the design team had just developed the initial drawings for the new CS/SPD, which required capacity to serve 28 operating rooms (OR). She worked to secure feedback from both frontline staff members and other key stakeholders, including the perioperative team and infection control/prevention.
"Just because we were making the space bigger, doesn't mean we were making it better," said Mace Davis. "There were some design elements and equipment that we needed to address in order for processes to work efficiently and effectively."
One of her initial suggestions was the installation of pass-through sterilizers, Mace Davis showcased how it would help improve quality and reduce errors. Leadership understood the patient care implications of this choice and agreed to fund the purchase of Steris steam and V-Pro sterilizers with a pass-through design.
"The costs associated with safety risks was too great not to do this," said Mace Davis. "If we are going to be a premier orthopaedic and spine institute, the CS/SPD needs the best equipment and tools to support the ORs."
As Mace Davis explains, decontamination is often over-looked when it comes to CS/SPD investments even though it is a critical aspect of instrument reprocessing. As the popular saying goes, "if it's not clean, it's not sterile." Mace Davis and her team did a capacity analysis of the planned decontamination area, including the number of trays that would require soaking and the time required for this step.
Based on the analysis, they equipped the new CS/SPD with six, three-bay sinks, each with an ultrasonic cleaner. The sinks, manufactured by Pure Processing, are height adjustable to support healthy staff member ergonomics. They also feature overhead lights to help technicians see bioburden.
"Decontamination is hard work," said Mace Davis. "We value the safety of our staff members and don't want them bending over sinks or struggling to see what they are cleaning."
While the CS/SPD team members are specialists in orthopaedic and spine reprocessing, the variety of instruments can vary greatly even within this single discipline. Recognizing the challenge technicians face in complying with instructions for use (IFU), Mace Davis and her team also placed computers at each decontamination sink where techs can scan trays and bring up the IFUs from oneSOURCE.
The Skokie Hospital CS/SPD rebuild has phased go-live dates, with the entire project set for completion December 2021.
"It can be difficult to secure resources for CS/SPD improvements because most hospitals want to spend the money on clinical care areas," said Mace Davis. "This work is a testament to the value that Skokie Hospital places on sterile processing. Leadership understands how our work is critical to patient safety."
A cookie cutter approach won't cut it
Robert Wood Johnson University Hospital in New Brunswick, NJ is a Level 1 trauma center with a high volume of surgical cases. With 32 ORs, the instrument tray volume has steadily increased by at least 10% each year. Anita Cassell, Director of Sterile Processing, engaged upper management and explained how her team could not handle this additional volume in its current space, with its current equipment and how this could begin to cause delays and backlog of work.
Cassell secured approval for the building of a new department that would be over double the size of their current space – 16,000 square feet versus 7,000. Her strategy was to design the new CS/SPD to overcome the team's pain point areas. It is slated to open in January 2022.
"When presented the opportunity for a new department you have to design it for your specific needs and not take a cookie cutter approach" said Cassell. "While every CS/SPD struggles in certain areas, the trouble areas can vary significantly from one department to the next."
One pain point for the department was decontamination, which was often backlogged according to Cassell. She says there was not enough space in the existing department to add more equipment and staff to accommodate increasing tray volume. She describes this "uncomfortable area" where staff members were "extremely busy and locked in by so many case carts that it becomes hard to navigate".
Another pain point was the front of the department and entry way where staff from procedural areas came to pick up trays, vendors arrived to drop loaner trays off and pick up, as well as stock consignment trays.
"In the morning there are people constantly ringing the doorbell," said Cassell. "CS/SPD staff had to stop what they were doing to answer the door or phone. It was a major distraction and disruption to our workflows."
The new CS/SPD has two floors, which presents challenges when designing workflows that work across two levels but will give us the square footage we need. Cassell and her team decided to use the first floor for decontamination, prep/pack and sterilization. The second floor will house case carts and storage, with a clean elevator connecting the two levels.
"The only thing that will happen on the first floor will be production, as the new design gives the ability to eliminate the distractions," said Cassell. "The second floor will now be the location where unit staff will pick up their sterilized trays, vendors will restock loaners in the newly added vendor room and where all items needing processed will be dropped off, signed in and sent to the decontamination area. All phone calls will be filtered by a unit clerk to a leader so they do not disrupt staff who are performing the reprocessing."
To boost efficiency, the new department will feature technology from Steelco that automates steps from decontamination through cleaning and all the way to the assembler. Staff members place decontaminated items on a wash cart and then push onto a conveyor where they will choose appropriate program and all other functions will be completed by the automated system, even the ultrasonic.
The conveyer transports the instruments to the sonic and then to the washer. An automated conveyor will then unload the washers and transport the items to a workstation that is flashing green, the light will then turn yellow for in progress. And then will retrieve the wash cart from workstation once flashing green again.
With the "traffic light" at the top of each workstation, staff are able to focus on productivity versus emptying and loading machines.
"We are designing another SPD for a hospital across the street, but we will not implement this automation there because it has only 9 ORs," said Cassell and we have the opportunity to do it right the first time. "Again, you have to design for your needs and for your "pain point areas". This is where people go wrong. I really believe you have to address your facility's own concerns."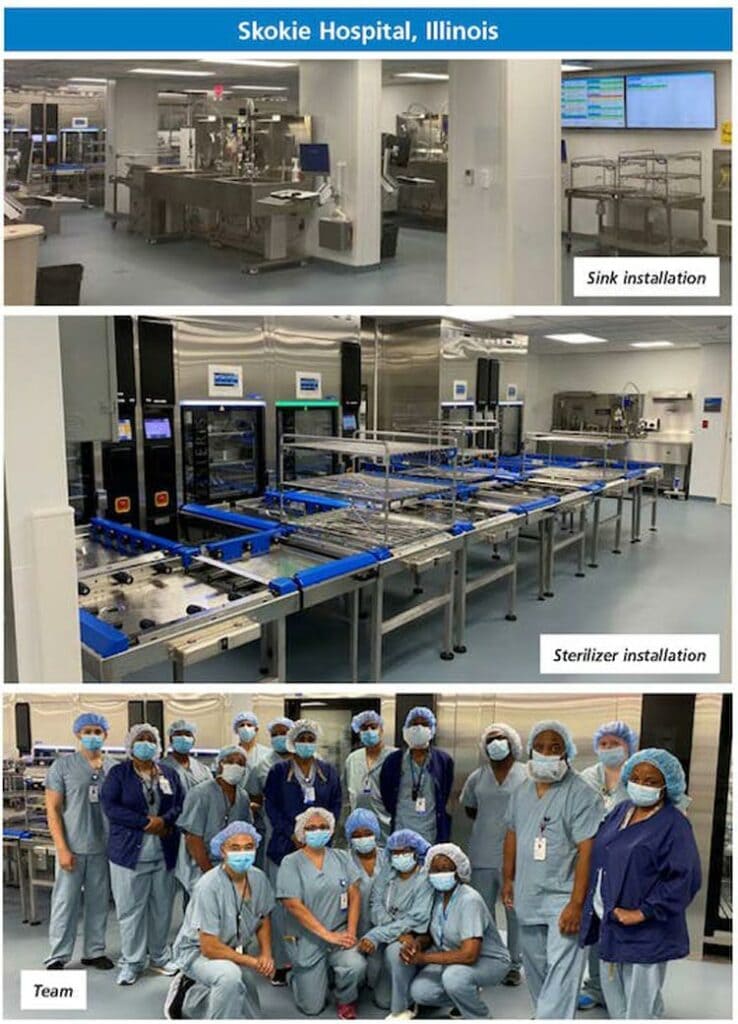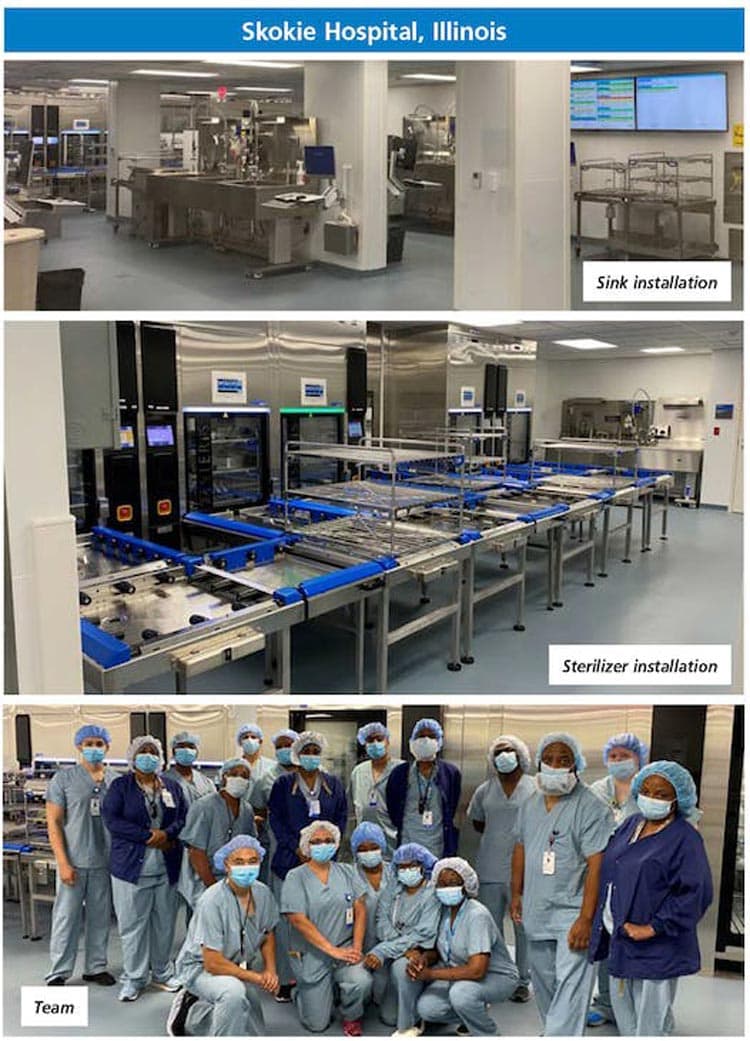 Overcoming storage shortage
At Illinois Masonic Medical Center in Chicago, part of Advocate Aurora Health, instrument and device advancements and growing case volumes were overwhelming the limited space of the CS/SPD department.
A particular problem was the small footprint and low ceilings in the sterile storage area, which limited the number of trays that could be stored, including loaner and consignment trays. Excessive stacking resulted in holes in wrappers, and subsequent reprocessing of instruments.
The decision was made to build a new CS/SPD department that provided the necessary space and equipment for safe and effective reprocessing. This included an improved sterile storage area that "can flexibly meet the future demands of the ever-changing healthcare reality for many years to come," according to Juanita Burrell, AA, BA, CRCST, CER, Manager Sterile Processing.
"Our previous department was very dated, so the hospital decided to build a new SPD from the ground up. Coincidentally, we were able to move in on December 20, 2019, just before COVID," said Burrell. Burrell also stated they evaluated several different vendors for storage shelving, who came in and performed presentations.
One option that Burrell and her team evaluated was rolling shelves, which they decided would not work well based on the new space. The concern was that when staff members moved the shelves to gain access to trays, they would disrupt the work of other technicians in the area who would have to stop what they were doing and move out of the way.
The next option was open, wire shelving, which the team ruled out because of the risk for tears and holes in the tray wrappers, as Burrell explains:
"While the open shelves were the most cost-effective option, the priority wasn't saving money, rather, it was improving quality. If staff members pulled heavy trays off a wire shelf, there would be a significant chance this action would compromise the wrap integrity."
Burrell had seen DSI's instrument storage system at the International Association of Healthcare Central Service Materiel Management (IAHCSMM) annual conference and was impressed by the design. She invited the company to present, and the team agreed that it was the right choice for their new department.
"We compared the open, wire shelving to DSI's shelving, which has solid shelves that can be pulled out to easily remove wrapped trays, within a virtual 3-D application," said Burrell. "That really drove the decision home because we could see there was no risk for holes and tears with DSI's solid shelving."
Burrell and her team used DSI's shelving solution to effectively organize their new sterile storage space. They have designated storage for trays by procedure type (e.g., orthopedics, gynecology), and specific areas for loaner and consignment trays.
Burrell and Illinois Masonic Medical Center's Executive Director of Nursing Karen Kittle, BSN, MBA, NE-BC, have developed a poster presentation on the rebuild, which they have submitted to IAHCSMM for its annual conference. In it, they describe how their "future state vision" for their new department is now a reality with four sterilizers, four instrument washers, two cart washers, eight workstations and "an efficient storage shelving in a state-of-the-art facility that drives efficient workflow processes."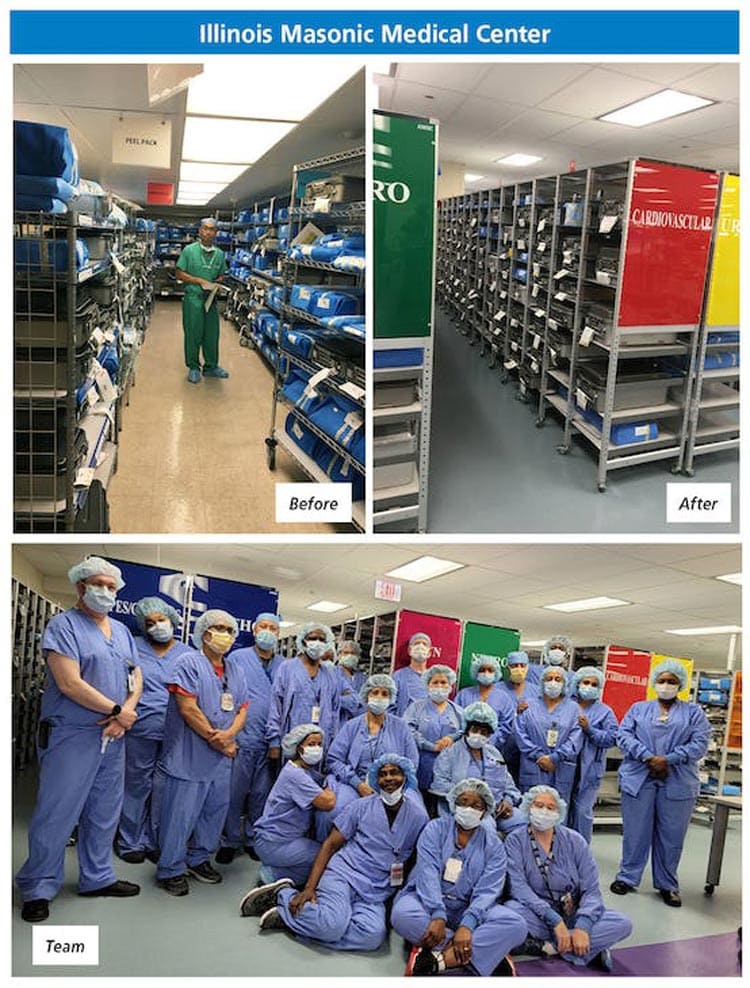 How do you renovate or rebuild while still reprocessing?
How can a CS/SPD team continue reprocessing instruments when its department is unusable? That is the challenge Gordon Allan, Decontamination Services Manager, Manchester University National Health Service (NHS) Foundation Trust (MFT), Manchester, England, UK, faced while his department is forced to shut down for six months during a renovation.
The CS/SPD based in Manchester Royal Infirmary Hospital, a major trauma center, also reprocesses instruments for four other hospitals: Royal Manchester Children's Hospital, University Dental Hospital of Manchester, Manchester Royal Eye Hospital and St. Mary's Hospital (maternity hospital). The department averages one quarter of a million instruments per month.
When Allan joined the CS/SPD team in 2020, the department was in the process of replacing its five sterilizers, which had become outdated. Taking a phased approach where they replaced one sterilizer at a time, the team was able to keep up with its workload during the upgrade.
Things have not been so straightforward this year as Manchester Royal Infirmary Hospital's CS/SPD replaces its washer-disinfectors. The department features an unusual design, with its washer-disinfectors on the bottom floor and the sterilizers on the floor above them. Because of some issues with steam pipework above the washers, the department has been required to shut down for six months while the new washer-disinfectors are installed.
"Because the department would be closed for such a long period of time, we made the decision to refurbish everything," said Allan. "When the remodeling is done, we will have a brand-new department."
But with five hospitals dependent on the CS/SPD for instrument reprocessing, how does the CS/SPD support clinical care when it has no place to do it?
Allan and his team looked at a few options. One was to build a new, smaller department on-site, but that would take too much time and money, and they don't have the space. They also looked at mobile sterile processing units that could be placed on-site. Again, this was too costly, and the mobile units would not fit on the hospital's site, which is located in the middle of the city of Manchester.
The ultimate solution involved a mix of internal and external resources. The NHS has another CS/SPD in North Manchester. The department is much smaller than the one at Manchester Royal Infirmary Hospital and has its own instruments to process. It was determined that while this CS/SPD cannot take on the instrument volume from five additional hospitals, it does have the capacity to process instruments from four of the hospitals. .
As for the instruments from the remaining hospital, St Mary's, Allan and his team turned to Steris, which had a local reprocessing facility in their vicinity. The Steris facility can also accommodate any overflow in instruments that the CS/SPD in North Manchester could not handle.
At the North Manchester site, the greatest challenges are transportation and staffing. The Manchester University NHS Foundation Trust had to hire vehicles and agency drivers to transport dirty instruments from Manchester Royal Infirmary, and return clean instruments, a 10-mile trip each way.
"While we are still meeting the 24-hour tray turnaround time target, our hospitals are still adjusting to the fact that they are not getting their instruments back as fast as they did when our centralized department was in operation," explains Allan.
It wasn't until the team began transporting instruments off-site for reprocessing did they realize they had insufficient inventory to accommodate this model. Because turnaround time has increased, they have had to purchase additional instruments to meet the surgical case load.
"In the past we processed instruments so quickly through our centralized site that it masked the lack of equipment available," said Allan. "If we had the time, we would have reviewed our inventory before switching to this off-site model, determined what we needed and acquired the instruments then."
Because the North Manchester CS/SPD didn't have enough staff to accommodate the increased instrument volume, Allan and his team had to arrange for staff members from their hospitals to be sent there. While some technicians have their own vehicles, or can use public transportation, some do not have a means of making the trip. To overcome this challenge, the Manchester University NHS Foundation Trust has hired taxis to drive staff to and from the facility.
"We never had to manage this type of logistics in sterile processing so it has been a learning experience," commented Allan. "Staff members are sometimes late and miss their taxis so it is not so straightforward as it would seem."
The Manchester University NHS Foundation Trust is about three months into the CS/SPD department renovation at this time this article is published. Even with all the challenges, Allan says his team has remained positive and supportive.
"The staff knows this remodel must be done and we have to keep supplying instruments or surgeries can't be performed and babies can't be born," said Allan. "My advice to others in this situation is to identify and develop a robust business continuity plan to keep CS/SPD operations running during the renovation."
New equipment and products innovations for the CS/SPD
Below are some of the latest offerings from suppliers for effective and safe sterile processing that can be implemented during a renovation/rebuild or during business as usual.
---
Getinge's New Torin Artificial Intelligence
Prediction of surgery times with Getinge's New Torin Artificial Intelligence (AI) feature can improve the accuracy of the OR schedule which in-turn also improves staff and patient satisfaction. The more accurate your OR schedule is, the more stable it will present itself throughout the day and week. A stable OR schedule will also lead to a more precise sterile services department and logistical workflow.
One of the reasons for that stability is that the AI takes more variables into account than just the equation of time. It takes into account the staff required, room restrictions and mobile devices, so people can focus more on the tasks at hand and less on the accurateness of the surgery schedule of the day. By combining the AI power of Torin with the planning capabilities of Getinge's T-DOC sterile supply management solution the staff will be presented with proper priority guidance in the CSSD to enhance the performance of the OR even more.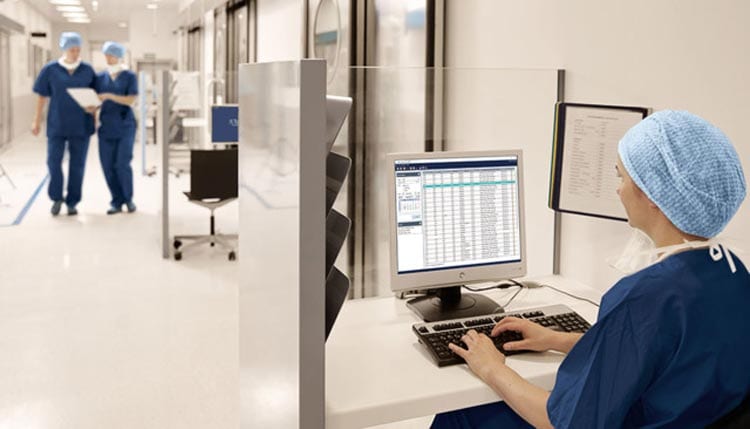 ---
Healthmark Industries Light Cord Adapters
Designed to connect light cords to a light source for inspection, the Light Cord Adapters assist healthcare workers with testing the integrity of light cords for intensity of light and fiber optic damage. Simply, choose the appropriate light cord adapter, attach to the light cord and secure together. Then, attach a light source to the light cord adapter and secure together, activate the light source and inspect. If any defects or damage are identified, remove the light cord from service. The Light Cord Adapters are offered for the following makes of light cords: Storz, Stryker, ACMI and Wolf and are available for individual purchase. Available light sources are sold separately.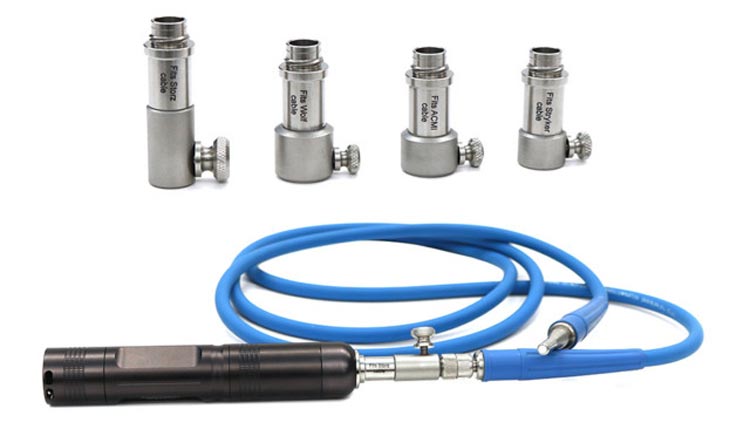 ---
Key Surgical T-EZ Pro Cleaning Indicator
The T-EZ Pro is designed for daily testing of washer-disinfectors in sterile processing. The primary benefit of this product is the use of a true blood soil sample – providing the best representation of the material that washers must remove from surgical instruments during mechanical cleaning in preparation for sterilization. Additional benefits include two ways to use the test – with or without instruments in a tray as well as the ability to attach the device to the tray if preferred.
The stainless steel indicator is set in a clear plastic process challenge device that can be easily opened after testing, no need to break it. Reading the results couldn't be easier - a completely cleaned strip (no residue or tracings of the blood soil sample) indicates a passed test. Key Surgical has designed a pass/fail chart, that is included in each box of T-EZ Pro, that can be posted and easily referenced with every test.
"As advocates for education in healthcare, compliance to industry guidelines and best practices (and unaccepting of a 'this is how we've always done it' mentality) providing a new cleaning indicator is just one example of our support for the many processes in SP," said Alana Suomela, Director, Corporate Marketing, Key Surgical. "The use of the Key Surgical T-EZ Pro cleaning indicator supports compliance with Association for the Advancement of Medical Instrumentation (AAMI) ST79 standards, dedication to patient safety and overall workflow."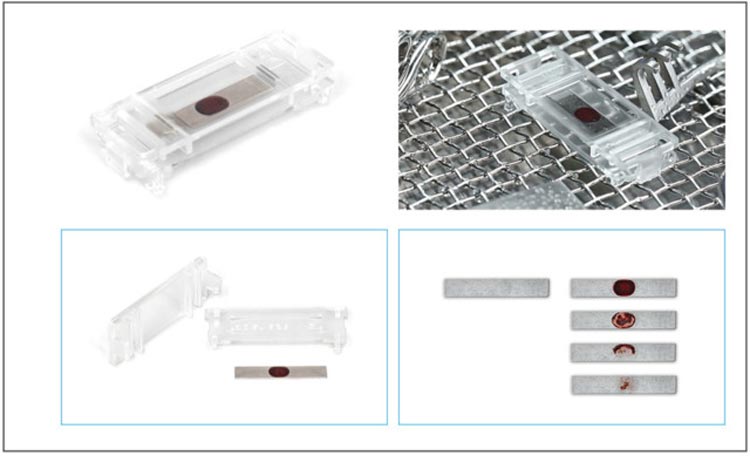 ---
STERIS AMSCO 600 Medium Steam Sterilizer
The sleek design of the AMSCO 600 Medium Steam Sterilizer meets two critical demands – maximum throughput in a minimum footprint. Whether designing a new Sterile Processing Department (SPD), Ambulatory Surgery Center (ASC) or planning for a department renovation, the combination of productivity and space savings makes the AMSCO 600 the obvious choice.
---
STERIS V-PRO maX 2
Low Temperature Sterilization System
Delivering unparalleled productivity for day-to-day Operating Room (OR) needs, the V-PRO maX 2 Low Temperature Sterilization System is designed for use in terminal sterilization of medical devices. STERIS's V-PRO maX 2 Sterilizer features the new Fast Non Lumen Cycle allowing staff to sterilize devices like cameras, telescopes, batteries and laryngoscope blades in just 16 minutes.